Camp Staff
Nick Brown, Women's and Youth Camp Director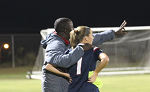 Nick Brown took the reigns of the Catawba College Women's Soccer Program in the spring of 2015. A former player for the Catawba men's team, Brown had served an assistant with the women's program since 2010. Prior to becoming Catawba's head coach he was at the helm at Lake Norman High School.
After Brown graduated from Catawba in 2005, he served as an assistant with the men's program while earning a master's degree from High Point. In 2010, he became an assistant with the women's program. As a player at Catawba, Brown was a two-year captain and helped the Indians to a pair of conference tournament titles. In 2004, he earned all-tournament honors. Brown also helped Catawba to a spot in the NCAA Tournament. He was a standout at St. Michael's College High School and is a native of Ajax, Ontario, Canada.
While an assistant at Catawba, Brown also coached at the high school level at Lake Norman and West Rowan High School. He is also on staff with the Lake Norman Soccer Club, currently coaching the '99 Eclipse United and the '00 Eclipse United squads. Brown was named the 2014 North Piedmont Conference and Region 7 Coach of the Year while at Lake Norman as he led the Wildcats to a league title. Prior to his move to Lake Norman, Brown helped West Rowan to three consecutive conference championships.
Brown was named the North Piedmont Conference Coach of the Year from 2010-13 while at West Rowan and earned Region 7 Coach of the Year honors in 2010, 2012 and 2013. He was the North Carolina 3A State Coach of the Year in 2013.
Brown earned a degree in mathematics from Catawba in 2005. He received his master's degree from High Point in sports studies in 2009.
Brown resides in Statesville with his wife, Julia. They have a son, Cade.
Ken Hassler, Men's Camp Director and Assistant Youth ...

Ken Hassler became the head men's soccer coach at Catawba College prior to the 2013 season. He came to Catawba from the University of Montevallo (Ala.), where his teams compiled a 43-12-8 record and two Peach Belt Conference championships. The Falcons also earned three straight NCAA tournament bids, and were ranked No. 2 in the nation at one point.
In addition to winning games at Montevallo, Hassler's 2011 and 2012 teams also earned NSCAA team academic awards.
Prior to Montevallo, Hassler was head coach at Pfeiffer (2004-10) and turned that Falcons squad into yearly NCAA Division II contender. Prior to Hassler's arrival , Pfeiffer had won just 11 games in the previous two seasons combined. Under Hassler, Pfeiffer had top ten regional rankings in 2005-09. The 2009 Pfeiffer team tied the school record for wins (13) and defeated then No. 1-ranked Lees-McRae.
Hassler began his career as head coach of New England College in New Hampshire, in 1987. After stops as an assistant coach at Plattsburgh State (1989) and Ithaca (1990), Hassler took over as head coach at Alfred University (N.Y.) in 1991. Hassler enjoyed a 12-year stay at Alfred, where his teams were consistently ranked in the region.
Hassler graduated cum laude from Plymouth State College (N.H.) in 1985, earning a bachelor's degree in physical education. He earned his master's degree in physical education (sport psychology concentration) at Ithaca College in 1991.
Hassler and his wife, Luisa, reside in Salisbury. They have two children, Ken and Melanie.
Garrett Linquist, Assistant Women's Camp Director

Garrett Linquist joined the Catawba College women's soccer coaching staff in January of 2017. He will serve as an assistant coach for the varsity team and as head coach of the development team. Linquist comes to Catawba after serving as the Director of Coaching - At Large with the Lake Norman Soccer Club.
Prior to his position with LNSC, Linquist was an assistant coach with the women's program at the University of Alabama at Birmingham. Over his two years, he served as recruiting coordinator and coached the defense and goalkeepers. He began his coaching career in 2012 as a defense and goalkeeper coach at the University of Alabama-Huntsville.
At UAB, Linquist helped keeper Angie Jimenez set a school record with 5.15 saves per match in 2015. At UAH, the team matched the school record for shutouts in 2012 en route to its first-ever Gulf South Conference Tournament win. His U-23 Iceland National Team goalkeeper, Iris Dunnarsdottier set a school mark for saves in a season.
Linquist is a 2012 graduate of Lenoir-Rhyne University with a degree in accounting. He holds a USSF "D" License and NSCAA Level 3 Goalkeeper Certificate. The Hickory, N.C., native has worked with the Catawba Valley Youth Soccer Association and the Lincoln Futbol Club in Tennessee.